Description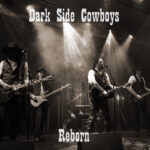 Reborn is the first official live album from the Dark Side Cowboys. It was recorded live at Alternativfesten, Sandviken on November 10, 2018 along with a series of music videos to follow the release.
It features the entire concert, a total of 11 tracks. Most of the songs are from the previous studio album "Return", but there are also some of the old classics, like "Bloodred Moon" and "Loving You".
Dark Side Cowboys have been known to be a very good live band and these recordings shows an example of just how good the band can be. Even though many of the songs are performed live with a very similar sound as the original studio recordings it also gives the songs new dimensions and variations.
Release info
Year: 2018
Label: Epos MD/Moriensis Productions
Format: online

Track list (CD + online release)
Dust III
One Moment In Time
Loving You
I Would Never
Silent War
Bloodred Moon
Breathing In
Everything Changes
Pride
Dream With Me
New Religion