Description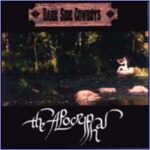 This album is probably what you could call the final battle with the old Cowboys… One can also look upon it as a summary of what Dark Side Cowboys have been doing during their first three years of existance, before the album was released. The Apocryphal is made like the soundtrack to a movie, dealing with the theme of "abuse of messages" and it strives to reach other depths within the listener than the previous release Pure Hearts EP. No singles were released from this album but some years after its appearance, DSC chose to include "Tears For You" as a built in single on the extended CDM Most. Hardcore Cowboy-fans might find it interesting to know that this album has also been officially released as a cassette in Poland.
Release info
Year: 1996
Label: M&A Musicart/SPV
Format: CD + MC (see below)

Track list
The Apocryphal
Tears For You
Black Debonair
Deep
The Escape
Why You Smile
Dust
Princess
As I See You
The Mirror
The Twist
Happy?
For The Sake of Honour
The Apocryphal was also released as cassette (MC) in Poland on the Black Flames label.
Same tracklist.