Description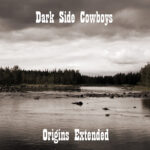 Origins is a limited edition album that was originally released on CD during the "Inlandsbanefestivalen" tour, containing 5 songs performed in acoustic versions. The re-release "Origins Extended" was released online only.
The live recordings feature two special guests, namely swedish singer/songwriter Linn Ulwebäck who sings along on "One Moment In Time" and german guitar virtuoise Martin C Herberg who joined DSC live on "Story of Stories". The last track is a cover of Wilhelm Peterson-Bergers "Jämtlandssången", the "national anthem" of Jamtland.
The cover artwork is made out of pictures from the beautiful Ammerån river in Jämtland, Sweden.
Release info
Year: 2015
Label: Epos MD/Moriensis Productions
Format: online

Track list (online release)
UnfortuNathalie
One Moment In Time (Preview Mix)
Deep
Song of Selena (Revived)
Happy
Bonus Tracks (OnLIne Release)
Story of Stories (Live in Vilhelmina 2015) featuring Martin C Herberg
One Moment In Time (Live at Arctura 2015) featuring Linn Ulwebäck
Black Debonair (Live at Arctura 2015)
Jämtlandssången (Live at Arctura 2015)